Well, I
finally
have news! We ARE going to move to North Carolina!
It took forever (since February), but it's finally official. You would think that I would have had some huge sense of relief, but honestly I didn't feel anything. At first I was disappointed that I didn't feel wildly excited. Wasn't this was I was waiting for? But then I slowly realized this quiet numbness was actually an improvement from feeling frustrated all the time. After being grumpy about our situation for so long, having that answer finally silenced all the internal grumbling (and colorful cussing.) There wasn't any jubilation, just quiet.
Quiet isn't so bad!
I thought that would wear off too, but it hasn't yet. Not totally. Instead it's like a trickle of awareness starting to sneak in, whispering "
This is going to be hard...
" I had to call and schedule appointments and cancel other appointments (along with some snide "WHY are you canceling?" questions, they don't like that. You would think my calling to cancel a December appointment would be looked at as thinking ahead and respecting their schedule and business, right?)
Things are going to pick up quickly. I have no time line, no real idea when we'll be moving, but my vague understanding is "soon". In the meantime, my parents are still living here, and their cats are still knocking things over. One of their cats figured out my big lovable ball of fluff has no instinct for fighting (he's an indoor cat) and decided to attack him. My poor boy (all 22 lbs of him) came flying out of the basement after the yowling with his little nose bleeding from a nasty scratch.
Socrates, taking my spot where I was reading. No pictures of his cut nose, he wasn't in the mood. This is a picture from a while ago.
My muse for my
Cheshire cat
is so patient, he decided he'd rather stalk me and snuggle me than fight with the big bully that my parent's cat feels he is (he's even taking on the dogs.) Luckily, my parents were very upset at the behavior, and we're working on keeping them apart and their cat out of my cat's territory. Socs is much happier now.
Socrates is a lover, not a fighter!
Minus feeling protective of my furry inhabitants of the house, I've also been cleaning up messes like crazy. How, in the name of Crayola, am I supposed to work like this?
Well, I managed to get one piece done for
Thrice Fiction Magazine
, the wolf:
I can't say that I'm thrilled with it. I feel like I could do a better wolf, more flowing hair and such... but I used pastels and sort of constrained myself. Part of me still likes it though!
I'm also finally putting up my
embellished canvases
in my Fairy Tale shop. These are fine art prints of my paintings on stretched canvases (gallery depth) that I then enhance with paint to make them original in their own right. This is a good example...
Here is the print of Cinderella, from the original painting (long since sold, but one of my very favorites, I do so love Cinderella):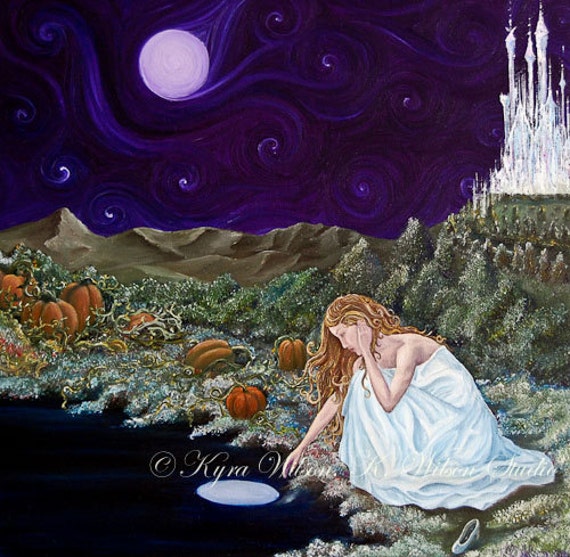 Cinderella print
Now, here is the actual embellished stretched canvas I completed: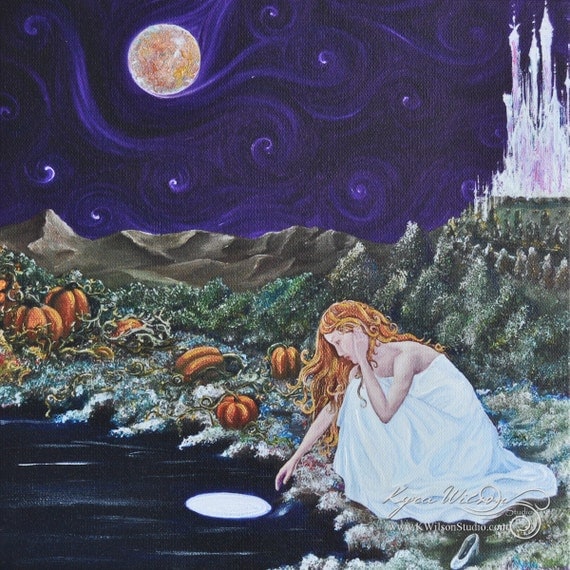 Embellished canvas print, ignore the glare - that's just from not tweaking the image for printing, and showing the actual canvas instead. You can see how deep the colors are on the picture below.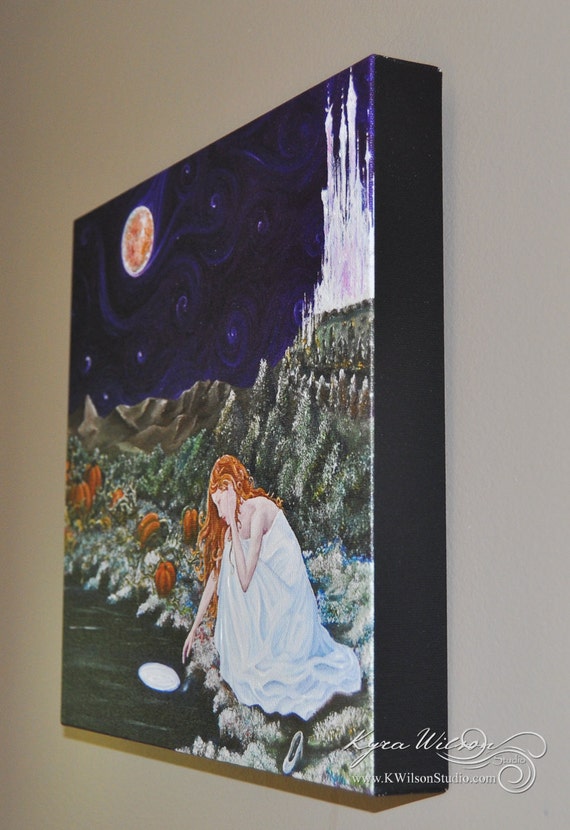 You can see the stretched sides are just black canvas.
You can see that the moon is completely different, more like my current moons. Plus, the original was in oil and so I wasn't able to make it all sparkly. Now that I can? I put copper and gold and other iridescents on it! Sparkly pumpkins and hair and more, oh how I love iridescent paint!
I really do love these canvases. I actually plan on making several for my own collection and keeping them! Sometimes I'm so sad to see an original go because I have fallen in love with it, so I'm grateful I can create more of them, so to speak. Not as wonderful as the actual original, but still fun. I'm sneaking little things into them that aren't on the original too (like a lady bug on my Garden Party painting, etc.)
Now, I'm off to try and finish the last piece for the magazine. Wish me luck! It involves swirls and an eye and... well, I'm not sure where I'm going with it. I suppose that's a good metaphor for my life right now!